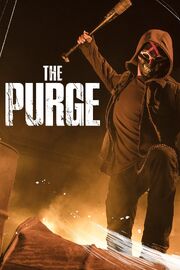 Premise
[
]
Revolving around a 12-hour period when all crime, including vandalism, murder, arson and theft, is legal, set in an altered United States ruled by a totalitarian political party, the series follows several seemingly unrelated characters living in a small city. As the clock winds down, each character is forced to reckon with their past as they discover how far they will go to survive the night.
Timeline
[
]
Season 1
[
]
Executive producer DeMonaco's comments during an interview with Vulture suggested that the events of the first season of The Purge TV series take place after the first two movies of the franchise, The Purge (2022) and The Purge: Anarchy (2023), but before the events of The Purge: Election Year (2040).
There are plenty of lines, during the show, that confirm the year is 2027, which makes it the 10-year anniversary of the Purge.
Season 2
[
]
Season 2 features an entirely new cast and a new year.
It happens at least fourteen years after the first Purge, presumably at some point between 2031 and 2040, a few years after Season 1.
It depicts events in New Orleans, and departs from all previous installments of The Purge in that most of the plot happens after the day of the Purge instead of during it.
The first episode sets up four main storylines, that connect to each other to some degree during the season: Esme's, Marcus', Ben's and Ryan's.
Each episode begins with a quick climatic scene that showcases how cultural behavior and expectations were affected by the existence of the Purge. Those scenes do not connect to the main plot.
Main Cast
[
]
Season 1
[
]
Ditavian Williams

as

Cane
Season 2
[
]
Episodes
[
]